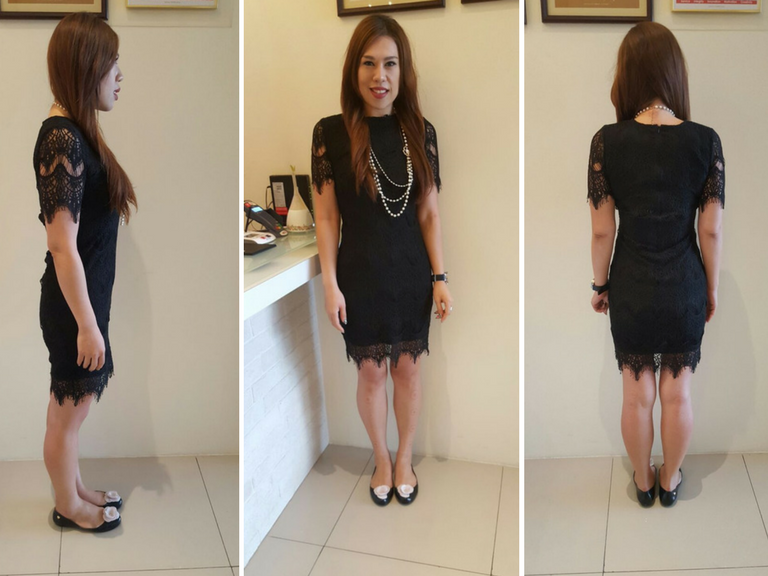 Hi ladies!
Do you remember Magdelene, our lucky Facebook fan who won our Facebook give-away contest in May? We're back to share updates on her stunning progress with Slim Couture!
Here's a quick recap of Magdelene and her weight loss struggle:
Magdelene used to be much slimmer previously, but succumbed to the temptation of taking slimming pills due to peer pressure, and ballooned to twice her size after that! Although Magdelene lost some weight with the slimming pills, it came back double and even more, which made Magdelene very upset and depressed.
Through her friends who are already existing customers of Slim Couture, Magdelene learnt about us and here she is at Slim Couture now to begin her weight loss journey!
When Magdelene first started with Slim Couture, she weighed at 79.6kg. On the last update we shared on Magdelene, in July, four months ago, she had already successfully lost 7.6kg!
We are so pleased to share that Magdelene has now lost a total of 13.1kg and has broke through the 70kg mark, now weighing in at a svelte 66.5kg, in just 2.5months time! WOW!
In total, Magdelene lost:
Weight loss: 13.1Kg
Measurements loss: 41cm
Fat loss: 8%
Magdelene is ecstatic to finally break past the 70kg mark, in just a short period of 2.5 months!
With her newfound figure and confidence, we can safely say that Magdelene is now a changed woman, and exudes so much beauty and charisma now!
After losing 13.1kg, Magdelene has better felt better or healthier in her life, and all these without the help of any slimming supplements or diet pills!
She never imagined that she could finally get back the figure and silhouette that she has always hoped to, after her past bad experience with slimming pills and weight loss.
Thanks to Slim Couture's holistic and healthy treatments and food programme, Magdelene is now a much happier and healthier lady!
Are you feeling depressed and inferior over your inability to lose weight? Slim Couture is here to help you! We promise 100% guaranteed results and weight loss! There are NO invasive slimming treatments, NO slimming pills and NO meal replacements!
Unlike many other slimming treatments, it is:
ABSOLUTELY SAFE
HOLISTIC WITH NUTRITIONAL GUIDANCE
HONESTLY PRICED
IMMEDIATE
VISIBLE RESULTS AFTER FIRST SESSION (3DAYS)
100% WEIGHT LOSS AND INCHES LOSS OTHERWISE MONEY BACK GUARANTEED
NO PILLS AND EXERCISE REQUIRED
Slim Couture is a home-grown Singapore company focused on helping women lose weight safely. Through the principles of traditional Chinese medicine, Slim Couture prides itself in providing successful weight loss solutions to female clients with weight issues since 2010. With its client-oriented approach and quality services, Slim Couture has been awarded the Singapore Quality Brands 2013/2014 and the Top 100 Singapore Excellence Award 2013/2014.
For a free consultation and body/weight analysis or to find out how TCM can help you slim down quickly and healthily!
Call: 6536 8586/ 6336 8665 www.slim-couture.com