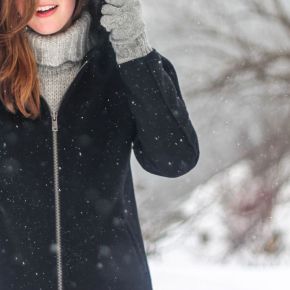 How to Look Slimmer in Winter Clothes
Come winter, and your entire collection of warm coats, jackets and sweaters comes tumbling out of the closet. While piling on warm clothing is indeed effective in beating the chill, all the additional layers can make you appear bulkier than you are. The challenge here is to feel warm without adding extra bulk to your frame.
Winters are known to cause actual weight gain as well. Workouts become difficult in the chilly climate and all the Christmas festivities only compound the problem furthermore. If you are witnessing an actual increase in weight, slimming treatments should be undertaken for keeping a check. As for looking slimmer and sexier in winter clothing, here are some useful tips .
Thermal Inners will Do the Trick for You
Begin your layering with well fitted, suitably ventilated thermal inners. Good-quality ones generally keep you warm even in the coldest of climate. As a result, you can skip an additional layer of woolens and still beat the chill. The fewer the layers the slimmer you look. Besides, thermal inners also act as shape-wear during winter season. Well fitted ones hold the loose layers of fat firmly to the body, lending a slim and well toned look. In case you do not prefer thermal inners, wearing cotton shape-wear is also an option.
Invest in High Quality Woolens
Investing in high quality woolens like a cashmere pullover is a great idea. A single pullover or sweater will keep you as warm as a couple of ordinary woolens will do. The warmer your clothes, the fewer you will need to pile on, and the slimmer you are likely to appear. A warm cashmere shawl can also perk up your look and make you appear lean. It sticks to your body beautifully, not adding any bulk to your frame. Shop intelligently for this. Buying costly woolens at the end of a summer sale when winter clothing is a lot cheaper is a great idea.
Stick to Dark Colors
Whereas, all your winter clothing does not necessarily have to be black, it is wise to stick to darker hues for a slim look. Popular colors would be cherry red, charcoal grey, chocolate brown and the likes. If the look appears monotonous, consider pairing it up with a colorful scarf or a bright colored hat or muffler.
Never Skip the High Heeled Boots and Waist Belt
Combining your winter ensemble with high heeled boots will add a few inches to your height, making you appear thinner and more graceful. Also consider a belt around your waist for highlighting your flaunt worthy hips! And if you think your midriff needs some cutting down, potent slimming treatments are available too.
Open Coats are a Hit
Complementing your winter look with an open coat can also make you appear tall and lean. Choose a color that suits your inners. If you have chosen a completely black inner, pick a coat with a combination shade, like light yellow for instance.
Striking the killer look during winters is also about highlighting the positives and playing down the negatives. Seek advice from stylists, if necessary.
To read our previous post, please click here.