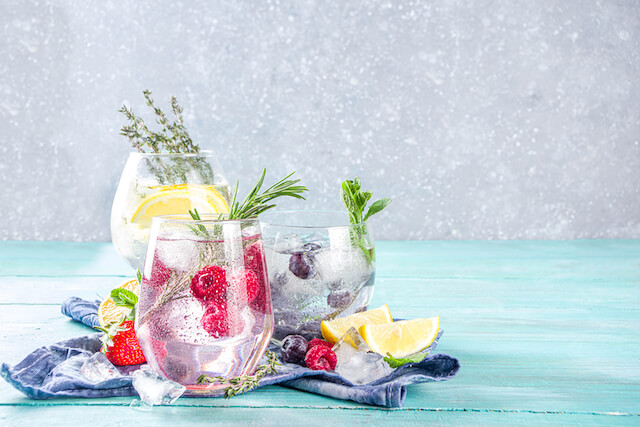 Infused Water: 10 Ways To Jazz Up The Way You Drink Water
Beyond drinking at least two litres of water per day, why the strong emphasis on staying hydrated?
On a day-to-day basis, an average person loses up to 2.5 litres of fluid – without exercise. The need for water will increase significantly when you engage in regular exercise routines when following the best weight loss programs that you're subscribed to. And if you fail to replace these lost fluids, then it could be detrimental to your health. With almost two-thirds of the adult human body consisting of water, perhaps it's time we think of water as a nutrient that your body needs.
If water doesn't excite you, try tweaking your water with flavours that your taste buds enjoy! Without further ado, here are ten infused water recipes to get you inspired! Take note that there's no right and wrong way when it comes to the measurements! If you want a more robust flavour, add less water. On the flip side, add more water for a hint of flavouring.
1. Cinnamon Apple
Deseed sliced apples and add it to water, along with cinnamon sticks. This combination is often referred to as a flat belly drink.
2. Watermelon Mint
Cube and deseed fresh watermelons before adding it into water. For a refreshing spin, pluck some mint leaves depending on your preference. Mint leaves can always be added along the way, but once the leaves have infused then there's no turning back!
3. Orange Ginger
A zest of orange goes a long way. On top of offering a tang of flavour, it also supplies vitamin C, which boosts your immunity! To aid with digestion and inflammation, combine it with a thinly-sliced ginger.
4. Lemon Turmeric
Lemon and water are a classic combination that you're probably accustomed to seeing. When paired with a hint of spice in the form of turmeric, it makes for an energy drink! Mix a dash of turmeric into hot water first before adding it into the mixture. You can even drizzle in some honey!
5. Citrus Paradise
Excite your taste buds with some tang! Squeeze in fresh lemon, lime, and orange before leaving the remains in the water. This mixture will definitely freshen up your day.
6. Strawberry Kiwi
Add some kiwis and strawberries into a pitcher of water! You can choose to slice or cube it. This infused water is exceptionally beneficial for digestion.
7. Strawberry Jalapeno
Add sugar, spice and everything nice! The hint of jalapeno stimulates your metabolism while strawberries complement the spice and offer antioxidant properties.
8. Berry Mint
For an ample supply of antioxidants, add a couple of your go-to berries! From blueberries, strawberries, raspberries – the choice is yours. Take it up a notch by pureeing berries or add a drizzle of honey.
9. Mango Ginger
Both ginger and mango do wonders in boosting metabolism. To add on, ginger is a natural pain reliever – perfect if you have migraines of cramps! This mixture subsides heartburn too.
10. Cucumber Lemon
It's no secret that cucumber contains hydrating properties, but what more if you drink it? In a cup of water, add slices of lemon and cucumber!
Especially if you desire to lose weight, water acts as an effective appetite suppressant that'll make you feel fuller faster – all with zero calories! And we're sure you've heard that water is the secret to youthful skin. By infusing water with all these delicious flavours from various power foods, there are loads of benefits in store for you!
Having a healthy diet combined with an active lifestyle is vital if you want to lose weight. But sometimes, we can't help but get caught up with our busy lifestyle to put aside time for exercise. So, going for TCM slimming treatments would be a great choice if you're looking for a natural way to lose weight without going through any drastic measures.