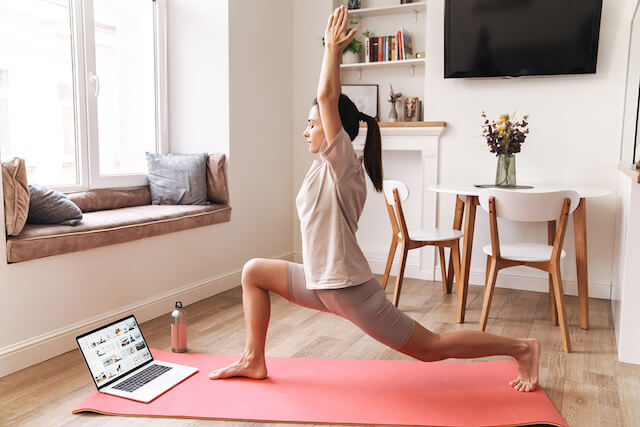 Improve Your Health By Exercising At Home During COVID19
Due to the global pandemic and the circuit breaker measures that have been implemented and have just recently been extended, keeping healthy physical health has been challenging. The inability to spend time outside has taken a toll on our mental and physical health and adapting to such a change can be rather tricky.
Whilst many took it upon themselves to still jog and run outside – if you wish to do so, please remember to maintain social distance and always have a mask with you – it's best to shift your workout routine to the confines of your home! Whilst it is far from ideal, working at home will further reduce the chances of you catching or spreading COVID-19 to the people around you.
If you're not quite sure what are a few exercises you can do at home, here are a few to strike your fancy!
1. Yoga
There was a reason why yoga was gaining traction in the past few years in Singapore, with the opening of several yoga studios in the country. Its core foundation is based on breathing exercises and meditation, thus, translating to an excellent avenue for a mental reprieve.
Yoga looks deceptively easy – that is, until you've tried your hand at it. You'd be surprised that to hold a pose for a set period of time can be rather challenging. In fact, a 30 minutes session can easily burn around 200 calories. With yoga, you'd improve not only your flexibility, but also your strength and muscle tone. Its relaxing nature makes it the perfect workout to cool down after a high-intensity workout. If you wish to burn more calories with yoga on its own, you may want to consider options such as Power Yoga and Zero Gravity yoga. It's a sport that caters to any fitness level and you're bound to find a routine that suits you best.
2. Resistance Bands
Resistance bands may look rather modest if you compare it to the big boys (dumbbells, barbells, weights and the like) and whilst they don't offer you the same amount of resistance, they can still get the job done. Depending on the type of exercise, you can activate different muscle groups and are excellent when it comes to toning the smaller muscle areas. Furthermore, its flexibility allows you to perform any type of strength training whilst also increasing your range of motion, flexibility and muscle endurance.
Resistance bands are especially beneficial to those who are beginners to strength training. Start slow and work your way up with a band that has a higher resistance!
3. HIIT
HIIT essentially stands for high-intensity interval training, which involves short periods of intense exercise followed by short recovery periods. These workouts are generally some of the most effective workouts as they can produce the same health benefits twice of that a moderate-intensity exercise can. Since HITT workouts usually include cardio workouts, they are effective if you wish to shed a few pounds by burning calories and increasing your metabolic rate for hours after the exercise.
However, with that said, HIIT is not recommended for those who have weak joints or ankles. The high intensity will do even more damage to these areas if your body couldn't handle the body weight and the intense workout at the same time. It's best to start with low-intensity workout and lose weight that way, before you try your hand at HIIT workouts.
4. Dance
Dance is not a mere form of self-expression, but it is arguably the best exercise workout in this list. Not only does it activate most, if not all, major muscle groups, but you will also hone your coordination, flexibility and strength. Of course, the specifics will depend on the type of dance you pick up. For instance, ballet focuses on form and flexibility, whereas break dancing focuses on strength. Furthermore, it is a form of aerobic exercise, which means you'd be burning as much calories as with any moderate-intensity workout. If you're working out, might as well have fun whilst you're at it!
Conclusion
These are just some of the few forms of exercises you can pick up within the confines of your home. You can always pull up a Youtube video that will instruct you on the proper methods, if you're not exactly familiar with any of them.
As we strive to stay safe during this challenging period, we at Slim Couture have decided to cease physical operations indefinitely. Whilst we aren't able to provide you with any Traditional Chinese Medicine, or TCM slimming treatments to aid with your weight loss journey, we hope this list can give you an inspiration of some of the methods to not only maintain your weight, but most importantly, your health. We look forward to serving you during a much safer and certain period. Together, let's flatten the curve!